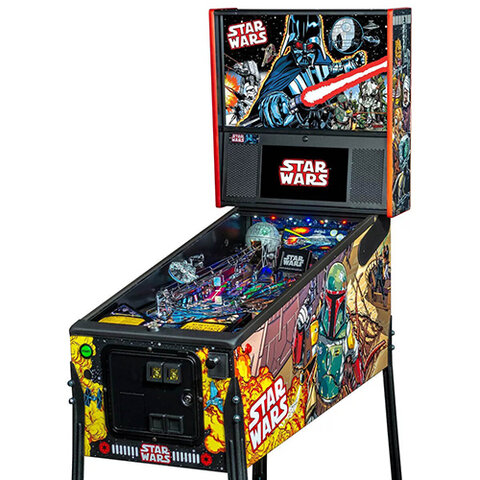 STAR WARS COMIC ART (PREMIUM)
Actual Size: 75"H x 55"L x 27"W
Setup Area: Indoors Only
Outlets: 1 - 20amp circuit




Bring the fun and excitement of pinball into your home. Challenge your family and friends to defeat the dark side. Rental Rates are weekly. Rent 2 or more games for a discount.
Set Up: Games must be set up indoors
Delivery Fee: $25per Game + $25 if going up or down stairs is required.
Stern Pinball's Star Wars™ Pin™ is a new stylish and fun pinball machine. Stern's new Star Wars™ Pin™ immerses players in the dynamic Star Wars™ galaxy. The Pin™ is packed with features that provide players with an irresistible game experience including select speech and footage from the original Star Wars™ trilogy, color-changing playfield inserts, a custom sculpted Death Star, and a custom sculpted and interactive TIE fighter.
The playfield is housed in a stylish cabinet with dynamic, high definition artwork. The all-LED playfield lighting provides optimal color and brilliant light shows.
"The Star Wars™ Pin™ is designed to provide quality family entertainment and bring pinball fun to homes everywhere," said Gary Stern, Chairman and CEO of Stern Pinball, Inc. "We are pleased to bring these pinball machines celebrating the Star Wars™ galaxy and adventures to our fans."
Complementing the immersive theme and exciting gameplay experience, Stern Pinball's powerful SPIKE™ electronics hardware system enables high-definition graphics and innovative animations.